javaprivatetour.com – Imagine yourself standing atop a magnificent peak, surrounded by breathtaking vistas of nature's wonders. Mount Rinjani, located on the island of Lombok in Indonesia, offers such an experience. In this article, we will take you on a journey to explore the natural wonders, hiking experiences, and unique activities around Mount Rinjani.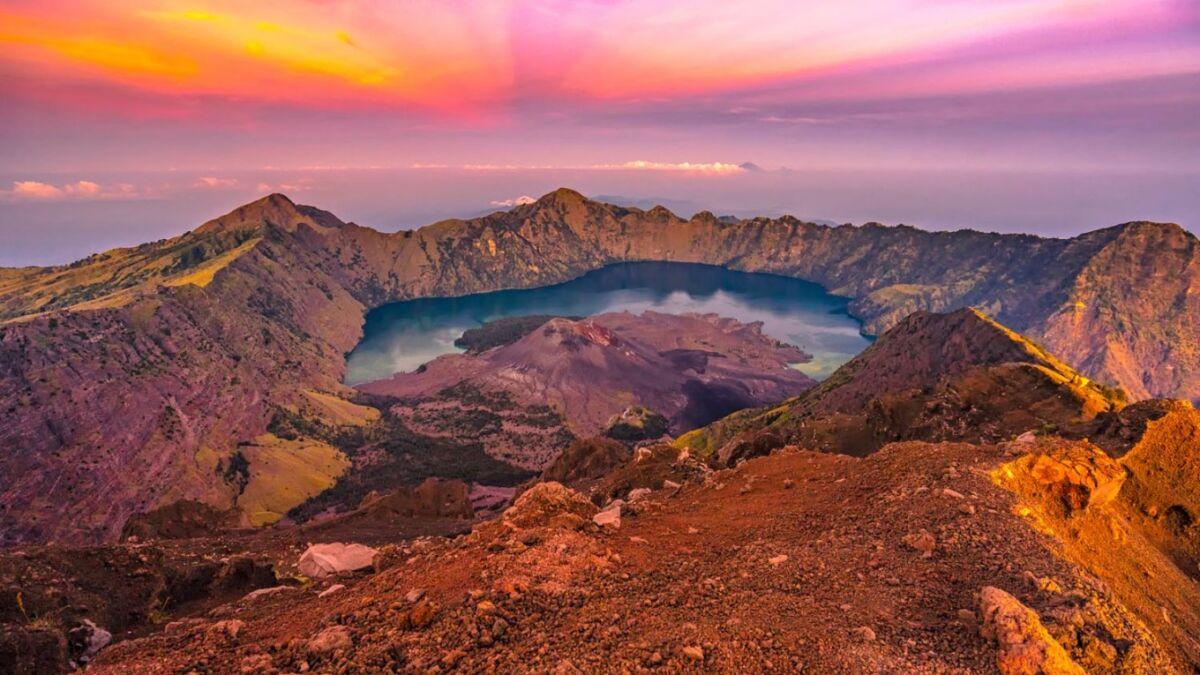 The Enchanting Mount Rinjani
Mount Rinjani is the second-highest volcano in Indonesia, soaring to an impressive height of 3,726 meters above sea level. This natural wonder is situated at 8º25′ S latitude and 116º28′ E longitude and is known for its awe-inspiring beauty. It is part of the Mount Rinjani National Park, covering approximately 41,330 hectares, with plans to expand to 76,000 hectares in the future. Geographically, the mountain spans three districts: Lombok Timur, Lombok Tengah, and Lombok Utara.
Rinjani's majestic peak dominates the northern landscape of Lombok, while to the west of the Rinjani cone lies a stunning caldera measuring approximately 3,500 meters by 4,800 meters. This caldera is home to Segara Anak, an 11-million-square-meter lake with a depth of 230 meters. The lake's outflow forms beautiful waterfalls cascading down steep cliffs, and it's a popular spot for fishing, with an abundance of fish like carp and tilapia. The southern part of the lake is known as Segara Endut.
Within the eastern side of the caldera, you'll find Gunung Baru (or Gunung Barujari), a smaller volcanic cone with a 170-meter by 200-meter crater, standing at an elevation of 2,296 to 2,376 meters above sea level. This mountain has had several eruptions, the most recent being in 2015. In addition to Gunung Barujari, there's another crater known as Gunung Rombongan.
Geological Wonders
From a geological perspective, Mount Rinjani is underlain by Neogene clastic sedimentary rocks, including limestone, and locally, Oligo-Miocene volcanic rocks. The majority of volcanic activity at Rinjani has produced pyroclastics, some of which intermingle with lava flows. The eruptions have been observed since 1847, with intervals ranging from one to 37 years.
Post-caldera formation, Rinjani's volcanic activity involved both effusive lava flows and explosive eruptions that produced pyroclastic deposits. The lava is generally black and, when molten, appears frothy. Eruptions following the caldera formation have been relatively weak, and the lava produced by Mount Barujari and Mount Rombongan is more basic compared to other Indonesian volcanoes. The likelihood of pyroclastic flows during eruptions is minimal. Most deposits are contained within the caldera.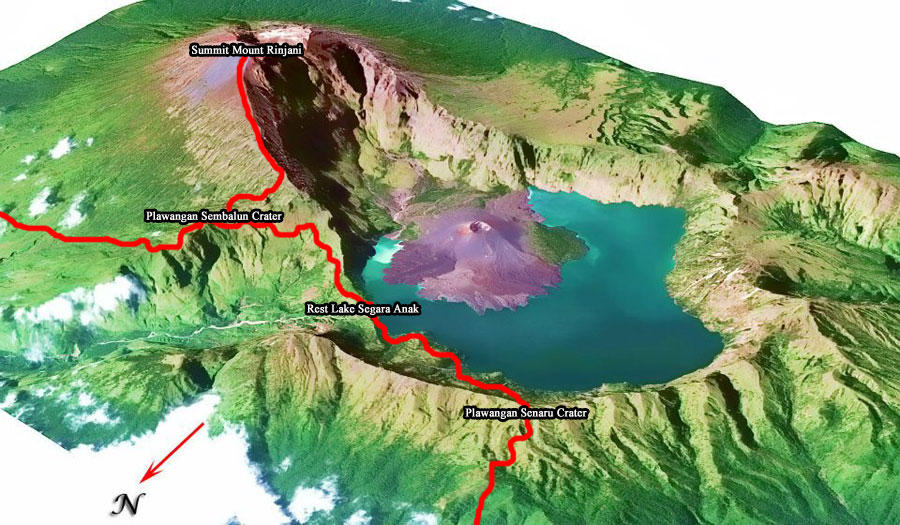 Structure and Tectonics
The distinct shape of the Segara Anak caldera, stretching from west to east, is believed to be linked to fault structures in the bedrock. Rinjani, situated along the Quaternary volcanic arc of the Sunda Arc System, is formed by the subduction of the Indian Ocean beneath the Southeast Asian Plate. The southward subduction indicates compressional forces, and the east-west-trending bedrock fractures that affect caldera formation are associated with tensional forces. These structures date back to the beginning of the Quaternary period.
Climbing Mount Rinjani
Climbing Mount Rinjani's peak is a favorite adventure for both local and international trekkers. As the second-highest active volcano in Indonesia, reaching its summit at 3,726 meters above sea level is a source of pride and an awe-inspiring experience. Hikers from across the globe are drawn to this destination, particularly in July and August. In mid-August, it's common to find students and nature enthusiasts from all over Indonesia climbing the mountain to celebrate Indonesia's Independence Day at the summit and Segara Anak Lake, an event known as "Tapak Rinjani."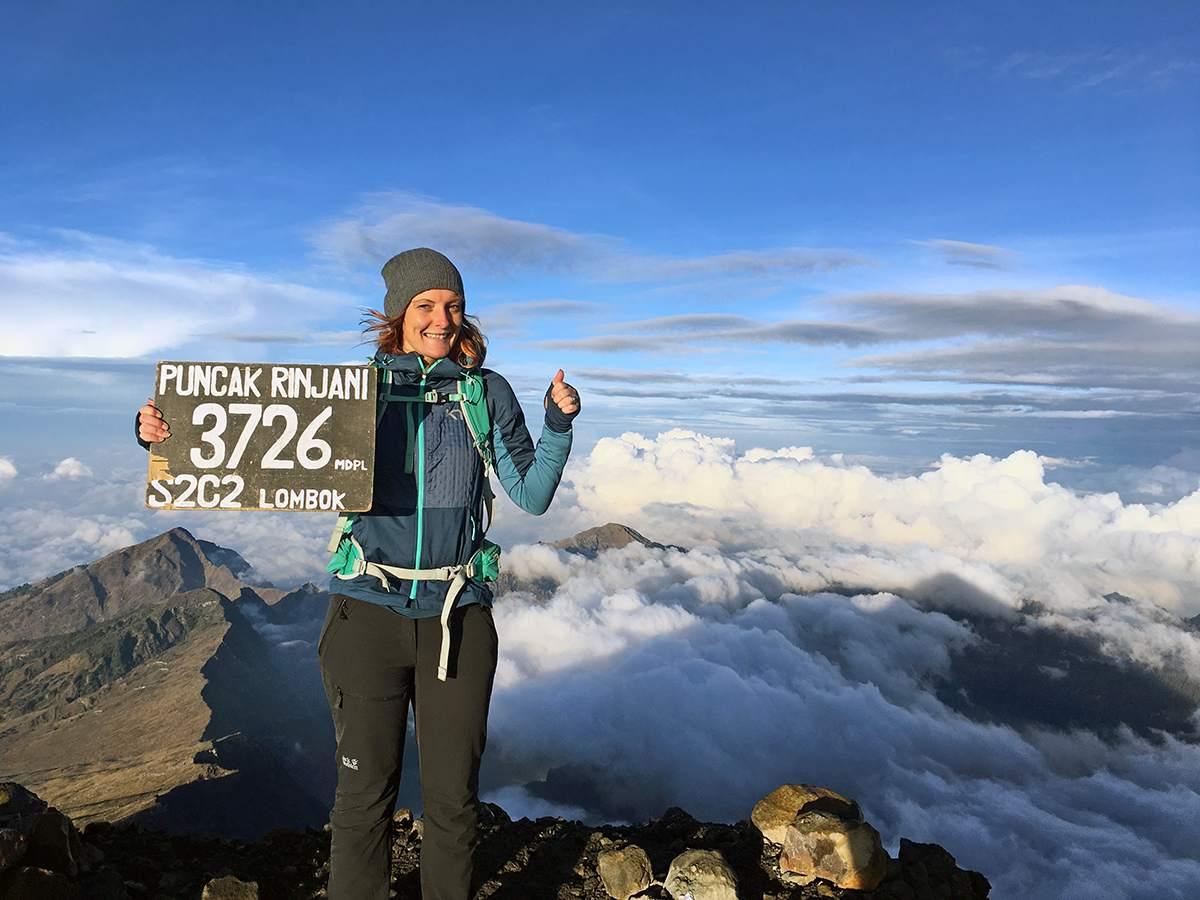 Exploring the Segara Anak Lake
One of the highlights of Mount Rinjani National Park is the stunning Segara Anak Lake. This pristine lake can be reached through two official trekking routes: Senaru and Sembalun. The journey from Senaru takes around 7-10 hours on foot (approximately 8 km), while the Sembalun route takes 8-10 hours.
Segara Anak Lake, situated at an altitude of approximately 2,010 meters above sea level, boasts a crescent-shaped form spanning about 1,100 hectares. Visitors can camp, fish for carp and tilapia, or take a dip in the hot sulfuric springs surrounding the lake. Additionally, there are attractions like Hulu Sungai Koko Puteq, Goa Susu, Goa Manik, and Goa Payung to explore, each with unique cultural and natural significance.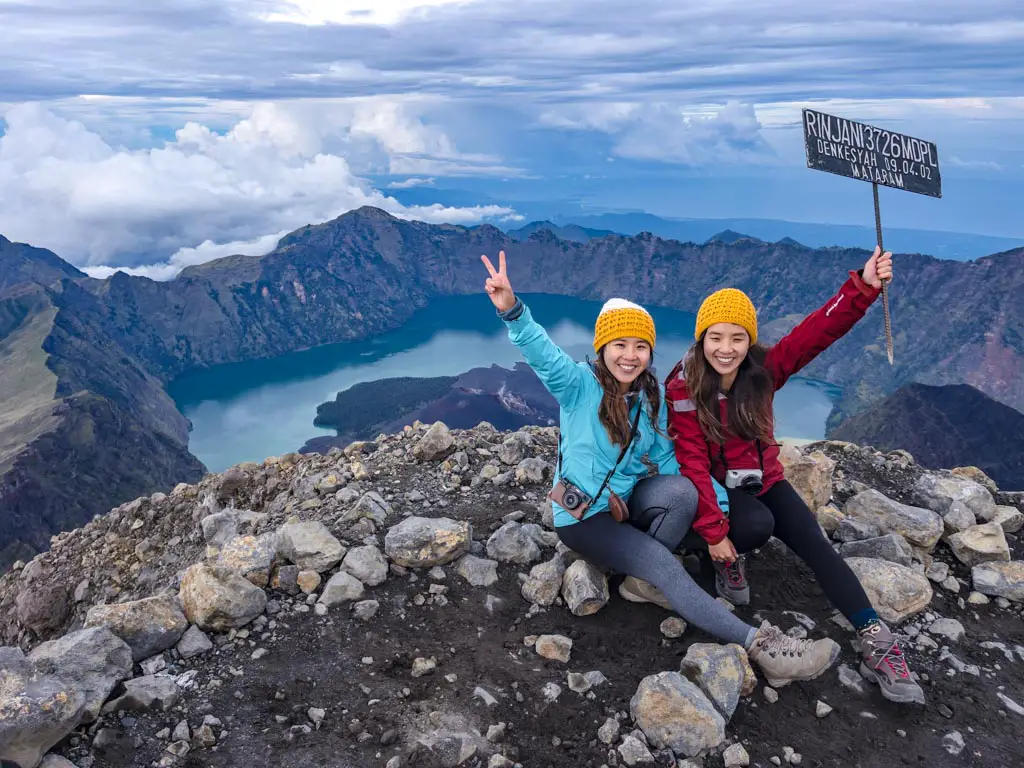 Planning Your Rinjani Adventure
Rinjani offers one of the most stunning panoramic views among Indonesian mountains. Whether you choose to start your trek from Sembalun or Senaru, you're in for an unforgettable experience. The air temperature averages around 20°C, dropping to 12°C at the lowest. While the summit can be quite windy, especially in August, the hiking routes offer unique experiences.
Most hikers commence their journey from Sembalun and conclude it in Senaru, which saves around 700 meters in elevation. Sembalun's path is longer but flatter, passing through scorching savannah landscapes (though temperatures can be colder at night). In contrast, the Senaru route features a steep ascent but offers a cooler hike through lush forests.
In the end, a three-day, two-night program can cover the entire journey, but if you wish to explore additional attractions like Goa Susu and Mount Baru Jari, you may need an extra two days. Adequate logistical preparations are essential, and it's highly recommended to engage an experienced local guide to minimize the risk of getting lost while respecting the local culture.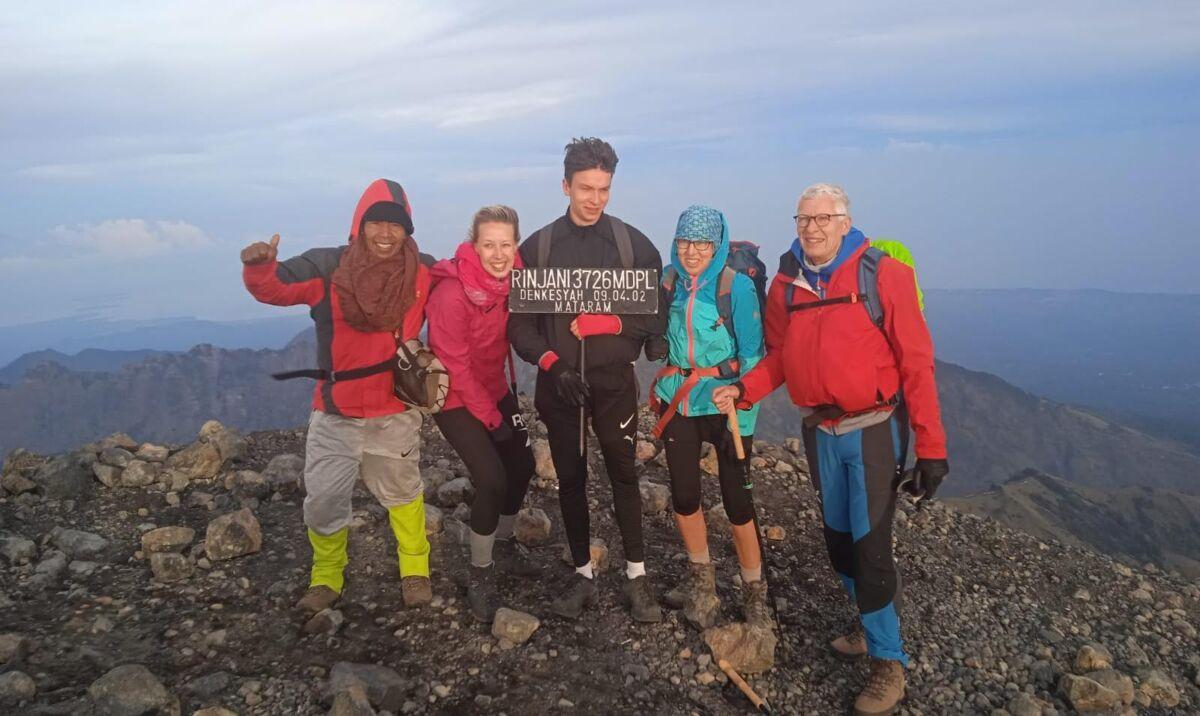 Mount Rinjani: A Global Geopark
Mount Rinjani's incredible geological significance has earned it a place on UNESCO's list of potential Global Geoparks. If granted this status, it would become Indonesia's third Global Geopark, alongside Batur Geopark in Bali and Gunung Sewu Geopark in Central Java, Yogyakarta, and East Java. The official announcement regarding Rinjani's Global Geopark status is expected in April 2018, with the certificate presentation scheduled for September 2018 in Italy.
Rinjani's importance has also led to Nusa Tenggara Barat Province being chosen as the host for the 2019 Asia Pacific Geopark Networks Symposium, where all geopark members across the Asia Pacific region will gather.
Java Private Tour: Your Gateway to Rinjani's Beauty
For travelers seeking a seamless experience in exploring Mount Rinjani, Java Private Tour offers the perfect solution. With our  English-speaking, friendly, and knowledgeable guides, they make your adventure truly memorable. The team at Java Private Tour is known for their flexibility, adapting to your schedule and preferences, ensuring that you have a personalized and unforgettable Rinjani. BOOK HERE to start your unforgettable adventure.