javaprivatetour.com – Are you in agreement that enjoying culinary delights is one of the favorite activities when visiting a new place? Particularly when it comes to extraordinary cuisine, it becomes an essential part of any traveler's journey. The Gala Dinner Rajamangsa in Klaten, Central Java, takes you on a culinary adventure through the rich culinary heritage of the ancient Hindu-Buddhist Mataram Kingdom, all under the starlit sky and the historical backdrop of Candi Sojiwan.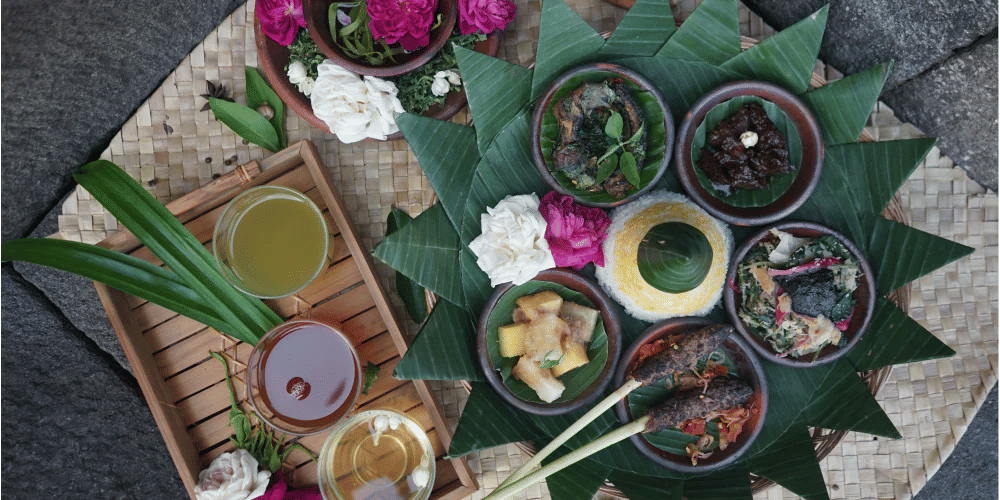 History
Rajamangsa cuisine is said to be an integral part of the Manusuk Sima ceremony, a ceremony that designates land as a freehold or independent territory, granted to those who have served the king or specific community groups. During this ceremony, the Rajamangsa feast, which was typically reserved for the king, is shared with the community, turning the Manusuk Sima event into a joyous and unifying occasion.
The village of Kebondalem Kidul holds the title of "Story Village" due to its rich oral traditions, including fables and stories carved on the walls of Candi Sojiwan. The legend of Rajamangsa's dish is one of these stories, inviting you to step back in time to the days of the ancient Mataram Kingdom through a gastronomic experience.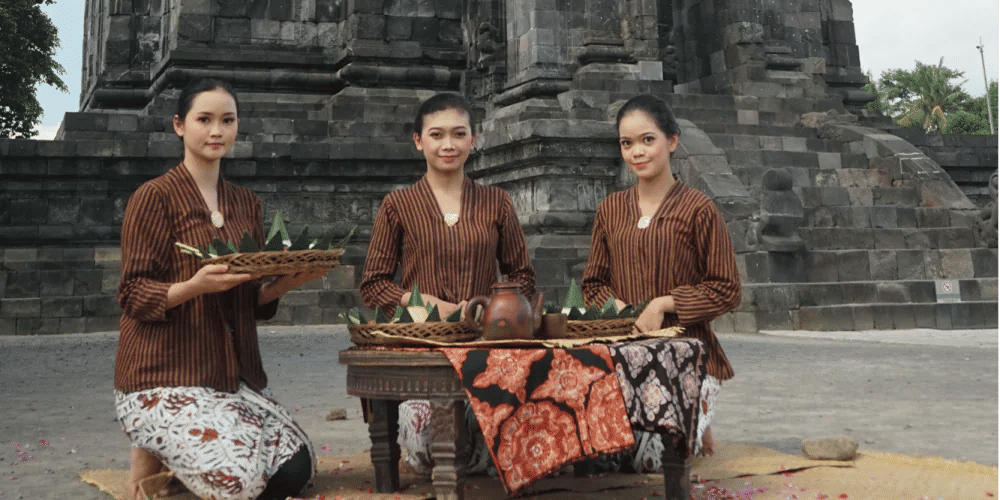 Gala Dinner Rajamangsa
The exceptional experience begins with preparations for the evening. Guided by an expert, you will be adorned with a batik cloth and then, as part of a group, walk to the open-air dining area within the Candi Sojiwan complex. Upon receiving a welcoming garland, you'll be directed to meet the "King" and take your seat at a banquet table.
The Rajamangsa feast includes a variety of courses, from appetizers and main courses to dessert. Don't worry if you're unfamiliar with the dishes or drinks served. Your proficient guide, fluent in English, is ready to explain the names and ingredients of each dish, all prepared by local mothers since the previous day. Dhayang or waiters are also available to provide table service.
Beverages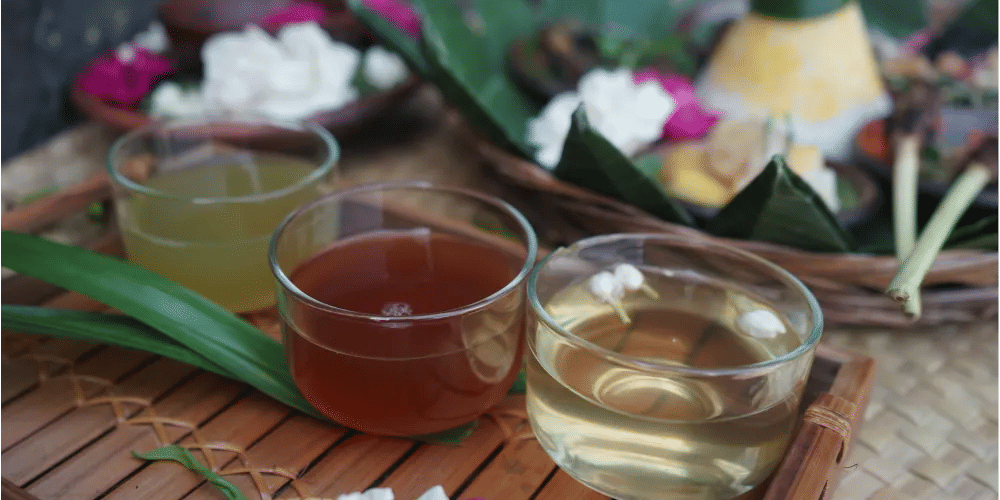 The traditional drinks served are all made from natural ingredients and prepared naturally. For example, Telang Rempah, a purple-hued warm drink with sweet, fragrant, and warming notes, is made from Telang flowers, pandan, ginger, and various spices. Additionally, there are three other drink variants made from jasmine flower fermentation (Jatiwangi), tamarind fermentation (Kinca), and sugarcane juice (Nalaka Rasa). The fermentation process adds unique flavors to these beverages, making them distinct, and Jatiwangi and Kinca are fermented for one day and two months, respectively.
Appetizers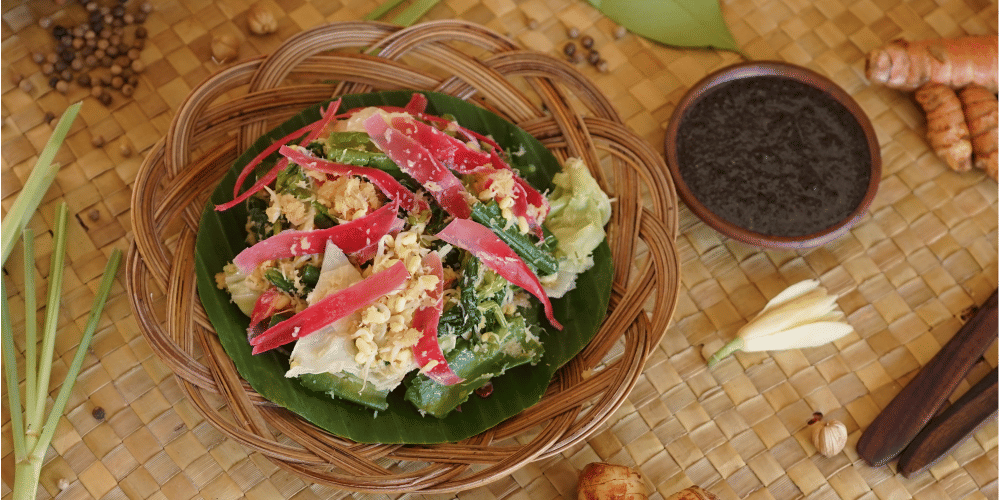 To whet your appetite, you'll be served Maneka Kuluban, a dish of boiled vegetables with a distinctive sauce. Various local vegetables are used, such as krokot, genjer, long beans, torch ginger, and more. Although it may resemble urap at first glance, what sets it apart is the black sesame sauce, providing a savory flavor reminiscent of pecel sauce.
Main Courses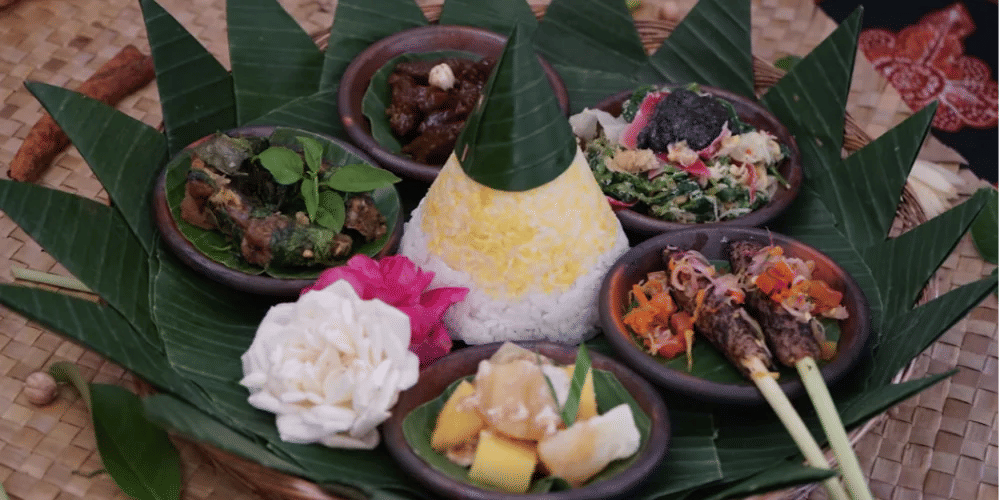 The main course is a delightful serving of corn rice shaped into a beautiful cone, accompanied by a variety of side dishes.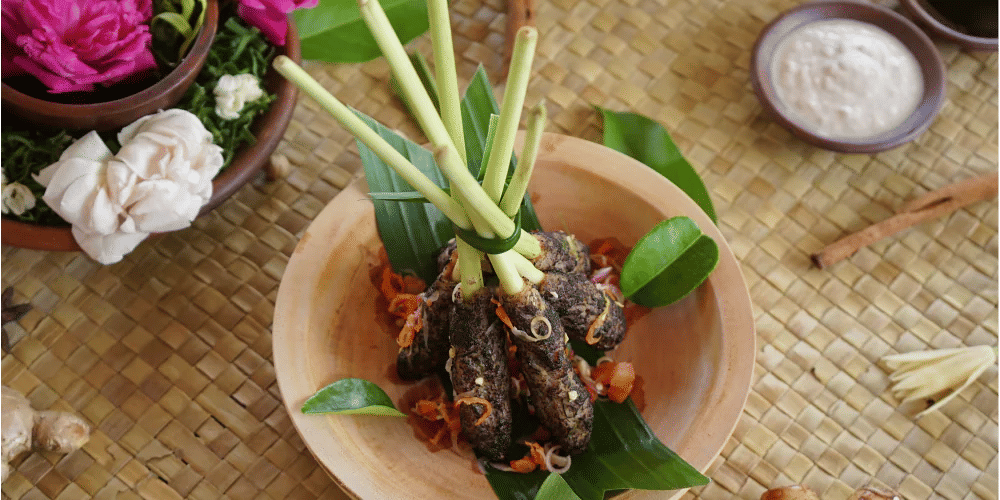 The first is Hadangan Harang, a delectable combination of finely minced buffalo meat seasoned with ancestral spices. Carefully prepared and spiced, the meat is formed into balls and skewered on lemongrass sticks before being grilled to perfection. Served with spicy sambal matah, this dish brings together sweet, fragrant, and spicy flavors.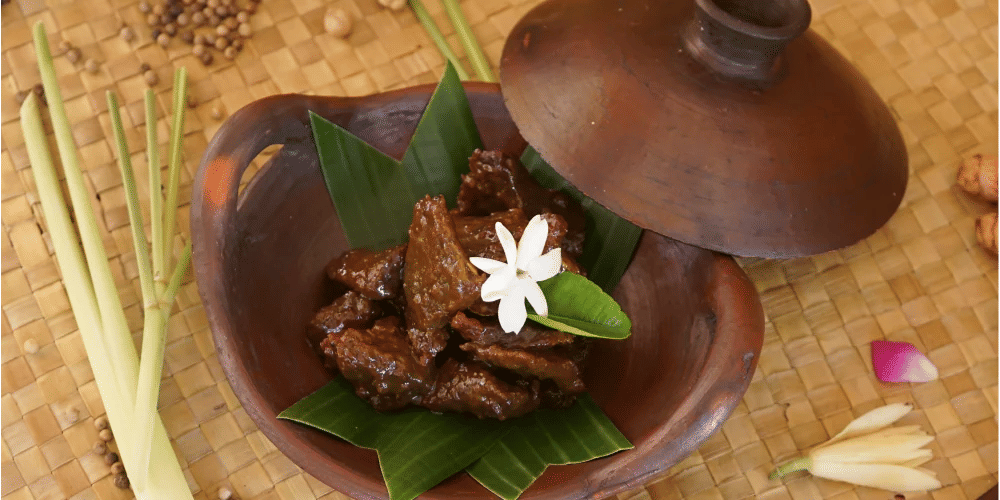 Next is Hadangan Madura, which also uses buffalo meat as the main ingredient. It boasts a sweet and savory taste, reminiscent of Yogyakarta's gudeg. Unlike Hadangan Harang, which emphasizes the tenderness of minced meat, this dish maintains the texture of the meat, adding to the pleasure in each bite.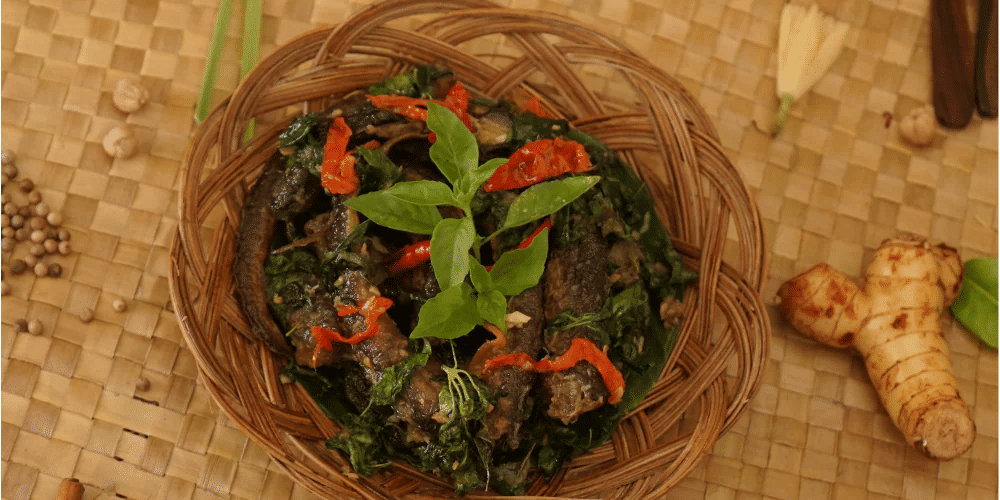 The third companion is Dundu Puyengan, a unique dish made from seasoned eels. The eels, seasoned and arranged in circles, are fried to a golden brown and then simmered gently with fresh basil leaves, creating a dish that is not only delicious but also fragrant.
Dessert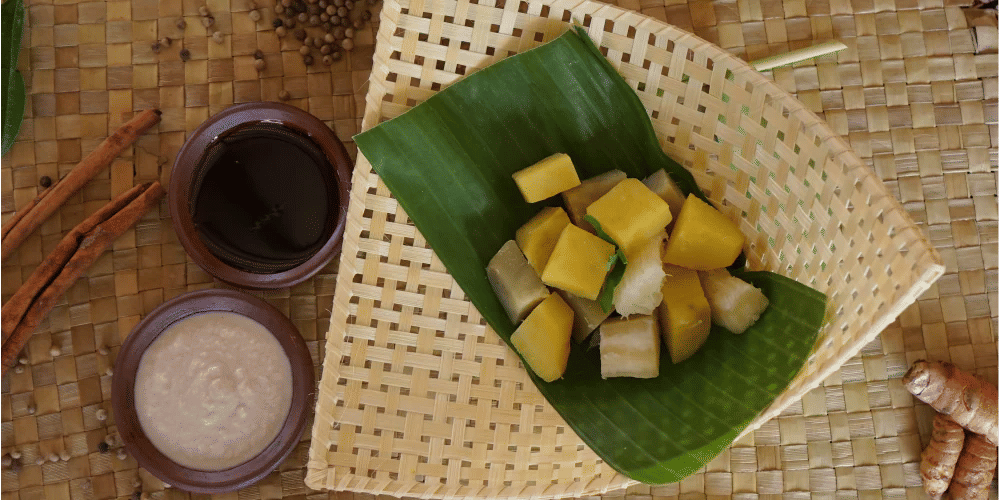 Completing the culinary journey is Palamula, a perfect combination of sweet and savory boiled tubers, enriched with creamy coconut milk and sweet, aromatic palm sugar syrup. Areh and kinca enhance the natural flavors of the tubers, creating a perfect combination to conclude the meal.
While enjoying the dessert, fruits, and drinks continually served, guests will also be treated to a mesmerizing cultural performance, a colossus dance beautifully performed by children and teenagers from Kebondalem Kidul Village. The enchanting gamelan music, captivating costumes, and the majestic backdrop of Candi Sojiwan enhance this spectacular performance.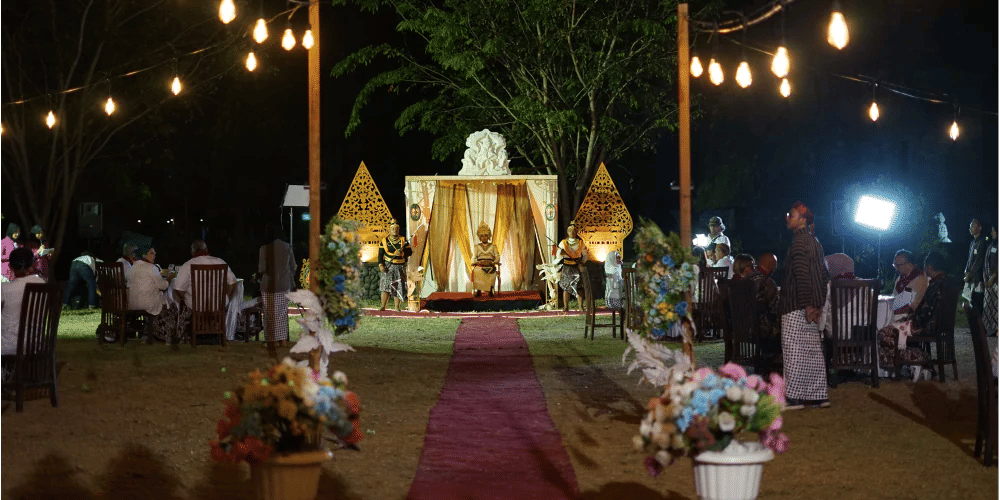 It's truly a remarkable evening where all your senses are indulged with a variety of historical heritage dishes, beautiful surroundings, friendly locals, and rich local cultural artistry. It's a salute to the people of Kebondalem Kidul Village who have packaged and preserved the historical legacy of the Rajamangsa Legend into such an enticing tourist experience.
If you're planning a trip to Java or Bali and want to make the most of this culinary adventure, consider using the services of Java Private Tour. Their English-speaking and knowledgeable guides, along with their flexibility in catering to your preferences, make them an excellent choice for a memorable journey.
To learn more and book your culinary adventure with Java Private Tour, you can simply BOOK HERE. Don't miss out on this unique experience that will transport you back in time while indulging in the flavors of the Mataram Kingdom's Rajamangsa legend.