javaprivatetour.com – When it comes to traveling, there's something magical about exploring the natural wonders of a destination. Indonesia, with its breathtaking landscapes and serene environments, offers a plethora of opportunities for travelers seeking relaxation and adventure. One such hidden gem is Situ Gunung Sukabumi, a natural haven nestled in Kadudampit, Sukabumi, West Java. Whether you're planning a leisurely holiday, a business trip, a research expedition, or a journalistic assignment, this picturesque destination should be on your list.
Situ Gunung Sukabumi: A Nature Lover's Paradise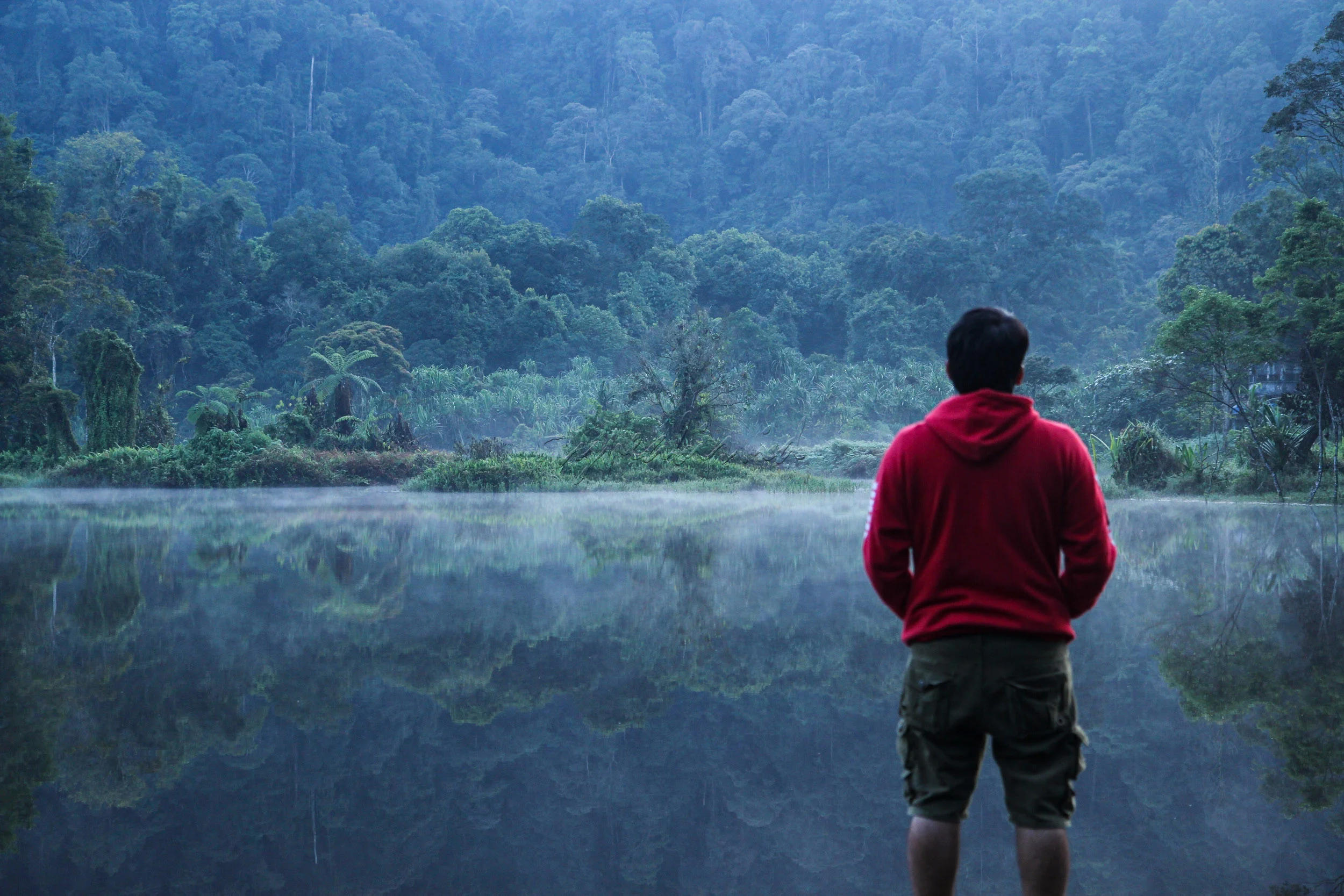 Situ Gunung Sukabumi is a haven for nature enthusiasts, boasting a variety of captivating attractions. From a majestic suspension bridge to spacious camping grounds, crystal-clear lakes, and refreshing waterfalls, this destination has it all. Located just a short drive from Jakarta's Soekarno Hatta International Airport, it's the perfect spot to unwind with family and friends, away from the hustle and bustle of city life.
In this article, we'll provide you with insights into this natural wonderland, a place where the beauty of nature takes center stage.
The Enchanting Situ Gunung Sukabumi
Situated in Kadudampit, Sukabumi, Jawa Barat, Situ Gunung Sukabumi offers a range of attractions for visitors to explore. These include a suspension bridge, spacious camping areas, a crystal-clear lake, and a serene waterfall. The destination also provides various facilities and services that enhance your experience, such as free WiFi, a cafeteria serving diverse cuisines, restrooms, and a prayer room for those who wish to worship. Additionally, Situ Gunung Sukabumi offers campfire facilities for overnight guests and thrilling rafting trips for adventure seekers.
Situ Gunung Suspension Bridge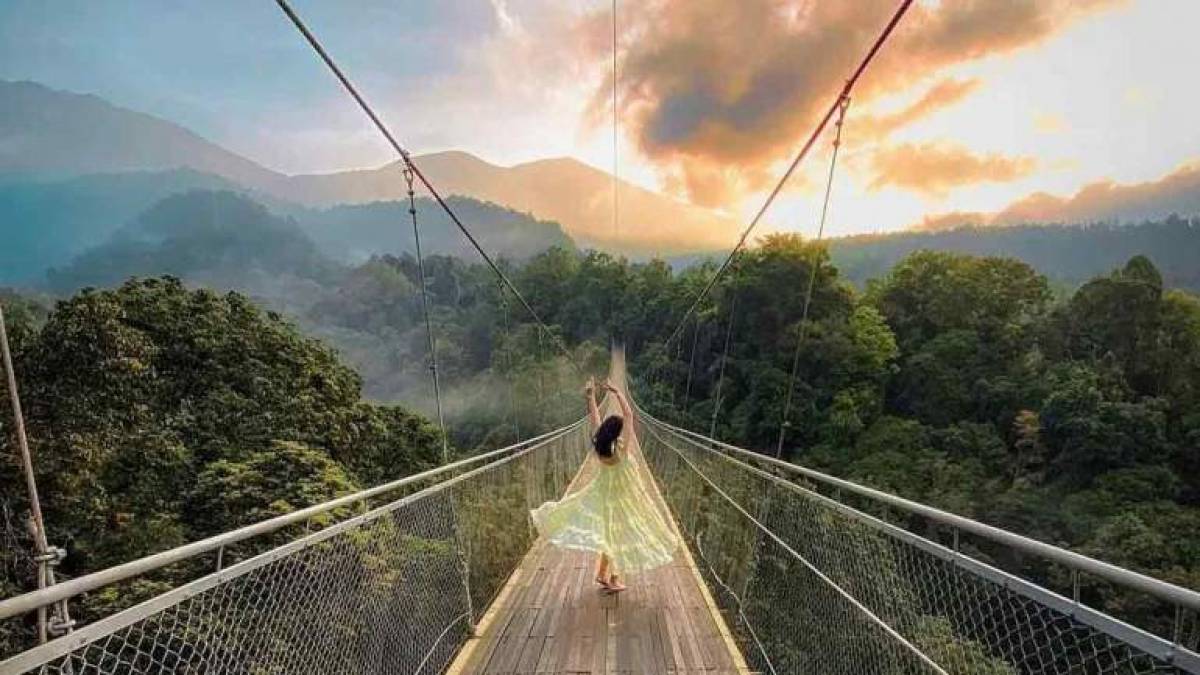 One of the highlights of Situ Gunung Sukabumi is the breathtaking suspension bridge, known as the Situ Gunung Suspension Bridge. Stretching 243 meters in length, 1.8 meters in width, and soaring 121 meters above the ground, it is Southeast Asia's longest suspension bridge. The bridge offers stunning views of the lush surrounding forest and is a must-visit spot. What makes it even more special is that it was constructed with the involvement of local communities and experts from Bandung, West Java. The manual construction process received technical guidance from the Indonesia Ministry of Public Works and Housing.
While crossing this bridge, you'll be treated to a canopy of tall, dense trees and a unique opportunity to capture captivating photos for your social media collection.
Sawer Waterfall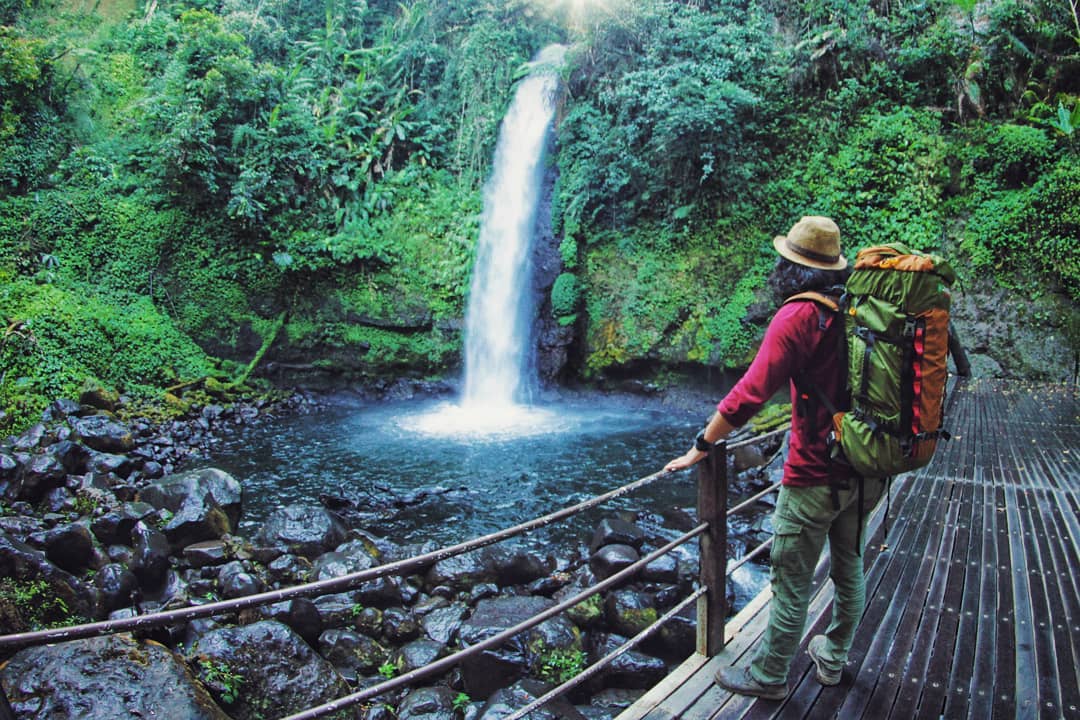 After crossing the suspension bridge, you'll reach the enchanting Sawer Waterfall. This 35-meter-high waterfall is a cool and clear oasis in the heart of nature. While the suspension bridge provides one route to this attraction, trekkers can also enjoy a scenic trail through the Situ Gunung forest. Though the journey might be tiring, the sight of this stunning waterfall is a reward in itself.
Situ Gunung Lake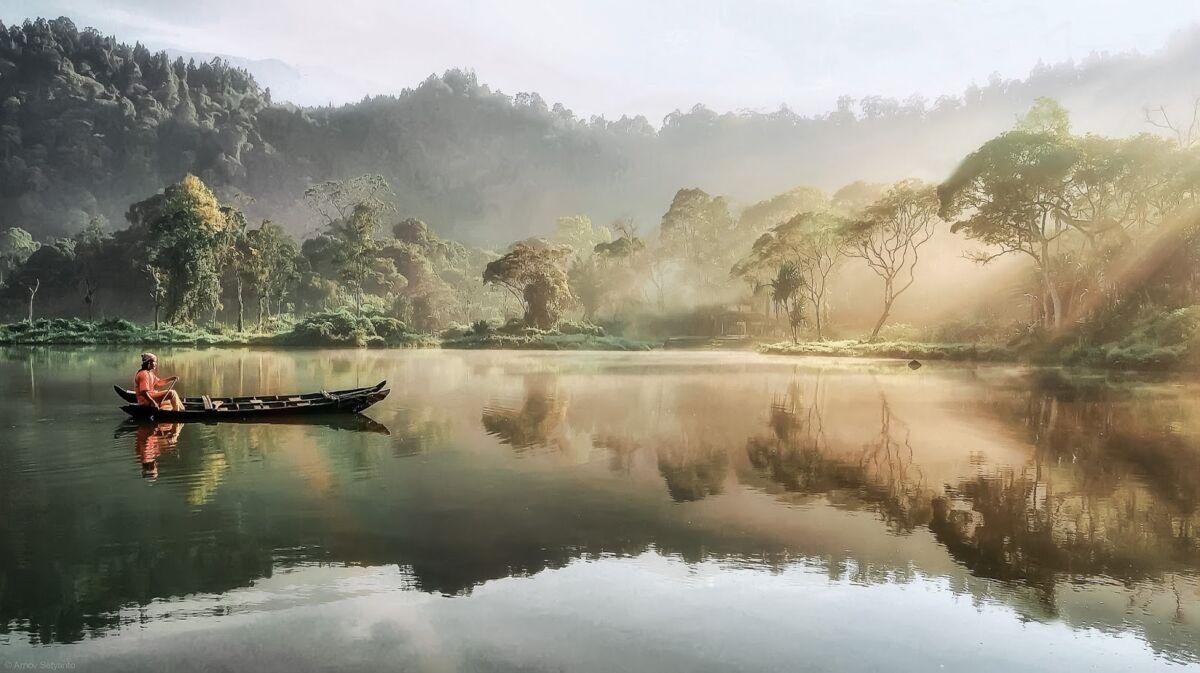 Situ Gunung Sukabumi also boasts a vast and pristine lake, perfect for creating lasting memories with friends and family. You can enjoy a meal and refreshments while relaxing on the green grassy banks of the lake. The cool breeze and serene ambiance add to the comfort of every visitor, making it an ideal spot for leisurely picnics and outdoor gatherings.
Amphitheater
One unique attraction at Situ Gunung Sukabumi is the amphitheater, where you can watch cultural performances by local artists. With its wooden tiered outdoor stage, this setting can accommodate around 850 spectators. Cultural performances take place every Saturday and Sunday from 9 am to 5 pm, providing a unique and entertaining experience for visitors, especially those who arrive on weekends.
De Balcone Resto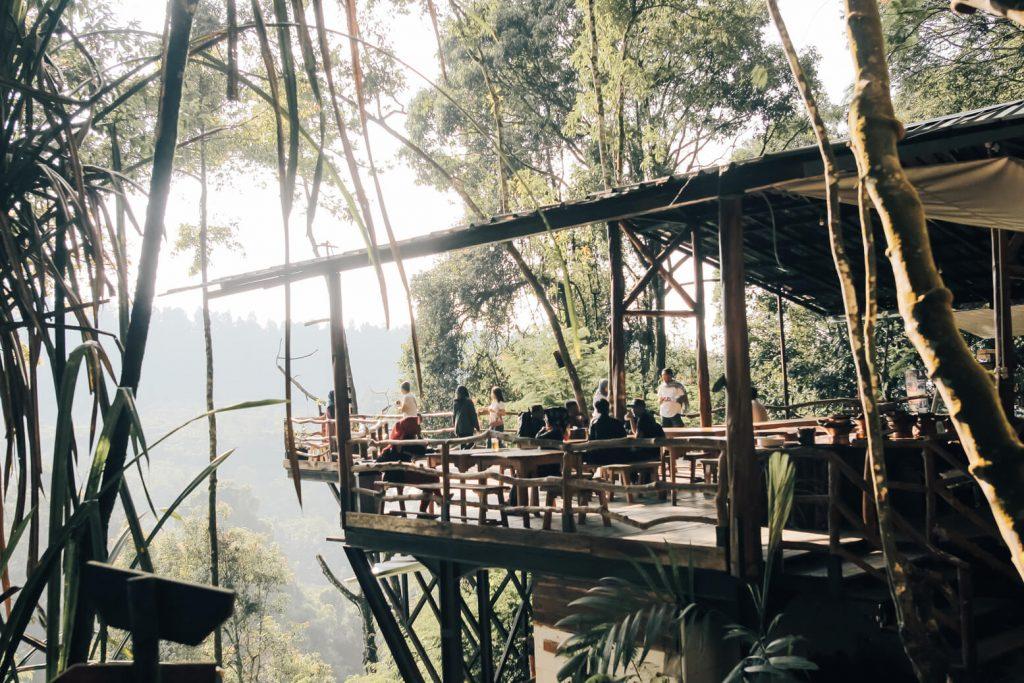 For those looking to savor delectable meals and drinks while enjoying the picturesque views and cool mountain air, De' Balcone Resto is the perfect spot. Its balcony setting offers panoramic views of the lush forest, creating a peaceful and comfortable atmosphere for friends and family to relax and unwind.
Camping Area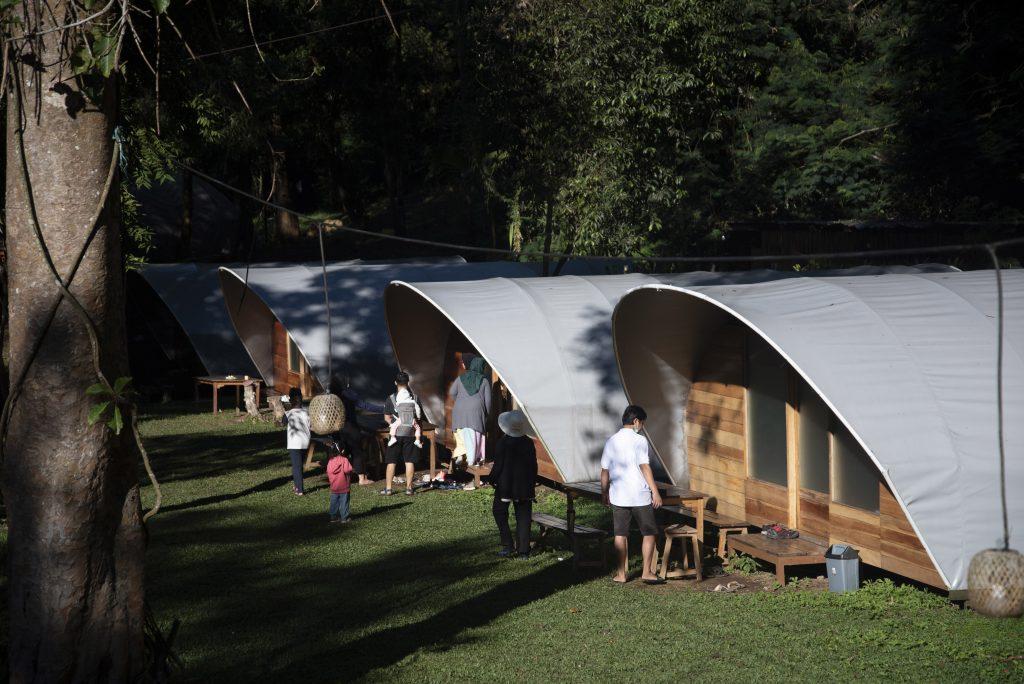 For those seeking a deeper connection with nature, Situ Gunung Sukabumi offers camping facilities. You can spend the night with friends and family in the midst of the breathtaking natural beauty. Tents are available for those who wish to camp, and while there may be additional charges, the experience is worth it. A night spent here will leave you feeling refreshed and satisfied.
Convenient Access with Java Private Tour
Exploring the wonders of Situ Gunung Sukabumi has become more convenient than ever. Java Private Tour guides can meet you at your hotel in the Bogor area or pick you up in Jakarta and transport you to the location via the newly opened Sukabumi toll road, reducing travel time significantly.
Conclusion
Situ Gunung Sukabumi is a natural paradise that offers a rich tapestry of experiences for travelers seeking relaxation and adventure. The lush forests, the iconic suspension bridge, the serene lake, and the cultural performances create a memorable journey for anyone who visits. Whether you're a nature enthusiast or simply seeking a tranquil getaway, Situ Gunung Sukabumi has something for everyone.
For a more personalized and convenient exploration of Situ Gunung Sukabumi, consider choosing Java Private Tour as your trusted travel partner. With English-speaking and knowledgeable guides, flexible schedules, and friendly service, we ensure that your visit to this beautiful destination is nothing short of exceptional. BOOK HERE and discover the beauty of Situ Gunung Sukabumi with a travel partner that understands your needs and preferences.