javaprivatetour.com – Imagine a place where the sound of rushing water blends with the excited cheers of adventure seekers. Welcome to Mungkid, a charming district in Magelang, Central Java, where the natural beauty of the landscape is intertwined with thrilling water-based activities and delicious culinary experiences. In this enchanting region, known for its stunning rivers and lush greenery, you'll find a plethora of options to quench your thirst for adventure and satisfy your palate. This article will take you on a journey through Mungkid's water and adventure tourism, offering a glimpse of the excitement that awaits you.
Whitewater Rafting on the Elo River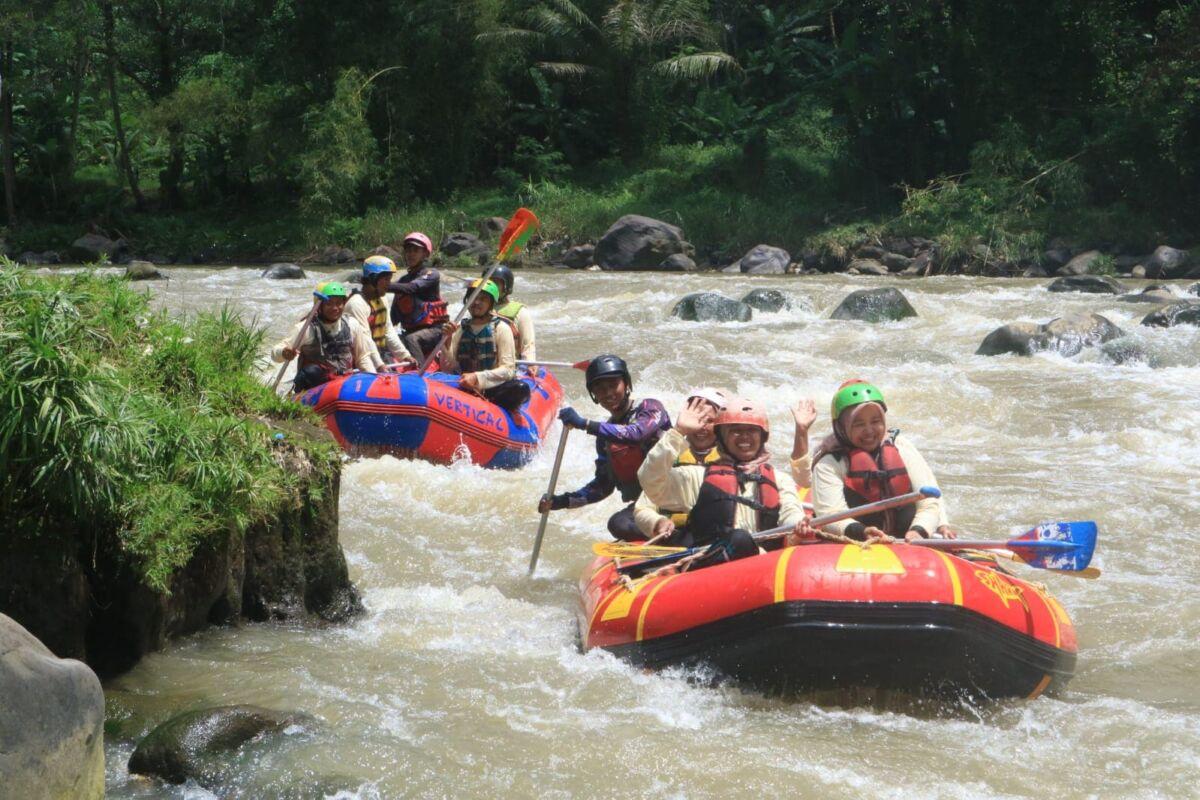 For those seeking a thrilling adventure, Elo River is the perfect destination. The gurgling sound of water amidst the raging currents of the river creates an exhilarating atmosphere for whitewater rafting enthusiasts. As you navigate the twists and turns of the river, each rapid evokes a rush of adrenaline, making your journey all the more unforgettable.
If you're interested in experiencing this adrenaline-pumping activity, several operators in the area are ready to accommodate you. Prices start at Rp. 750,000 per boat, including insurance, snacks, meals, and local transportation. Each raft can accommodate up to four participants, along with an experienced guide. The journey typically lasts for two hours, covering a distance of eight to twelve kilometers, with the longest route ending near Candi Mendut.
Prior to embarking on your adventure, participants are required to wear safety gear such as helmets and life vests. Safety briefings are conducted to ensure a secure and enjoyable rafting experience. Listening to the instructions from your guide is essential, even though Elo River boasts mild rapids.
What sets Elo River apart is its accessibility to a wide range of visitors, from children as young as five to adults. However, good health and a lack of medical conditions, such as heart disease, epilepsy, and asthma, are prerequisites for participation.
In the Elo River area, three picturesque villages manage whitewater tourism: Blondo Village, Progowati Village, and Senden Village. Each village offers a variety of operators, making it a hotbed for whitewater adventure enthusiasts. One notable operator in Blondo Village is Toto Magelang Explore, which is renowned for its exceptional service and thrilling experiences.
A Culinary Delight: Mangut Beong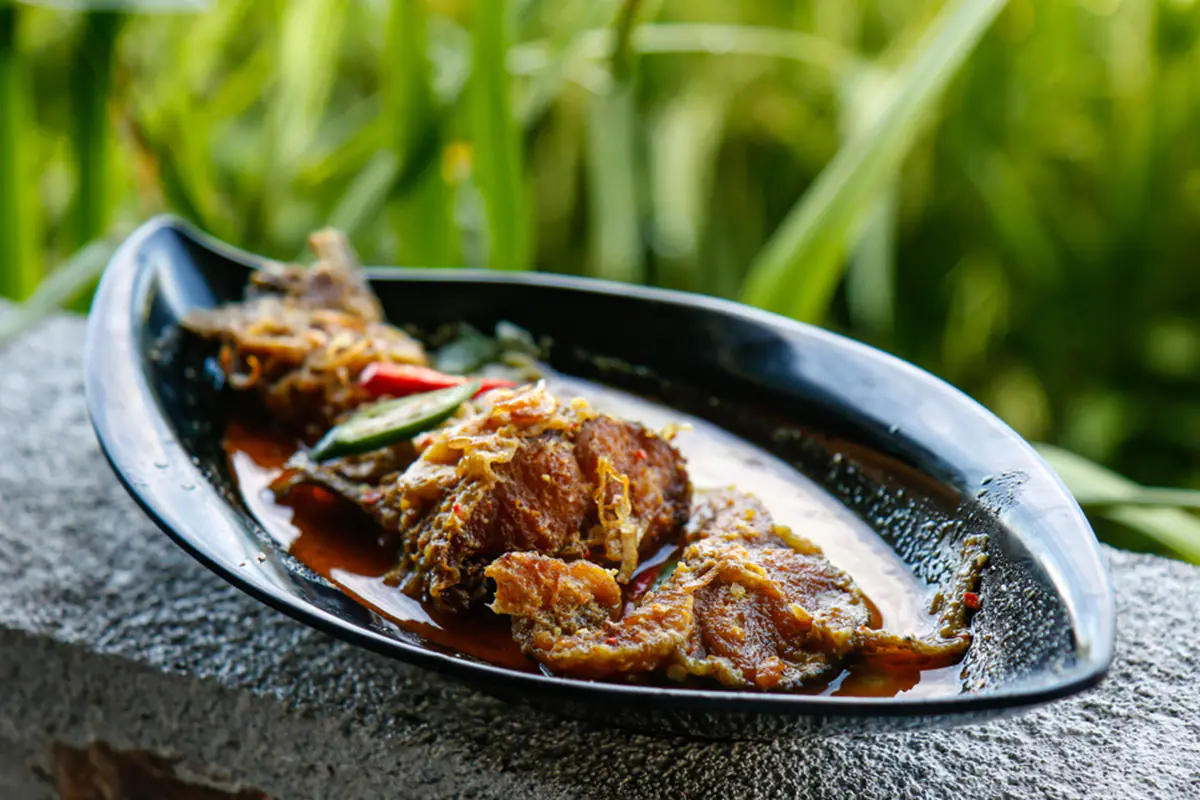 When in Mungkid, don't miss the opportunity to savor the local delicacy, Mangut Beong, a dish derived from the waters of the Progo River. This culinary delight features fried Beong fish, simmered in a flavorful mixture of spices, including shallots, coriander, pepper, candlenut, turmeric, galangal, red chili, and other seasonings. The dish is then cooked in coconut milk, creating a rich and slightly spicy sauce. Mangut Beong can be served as a whole fish or as portions, providing a delicious and authentic taste of Mungkid's local cuisine.
One of the notable establishments offering this delightful dish is Omah Kayoman in Progowati Village. Despite its simple appearance, the restaurant is spacious enough to accommodate a large number of visitors, ensuring you won't miss out on this culinary experience. Owned by Ipuk, a friendly 62-year-old woman, Omah Kayoman has been serving this delectable dish since 2005, making it an iconic culinary destination in Magelang Regency.
From Minapolitan to Minawisata: The Transformation of Ngrajek Village
Ngrajek Village is known as a "minapolitan," where the majority of its residents earn their livelihoods from fish farming. The village is rich in tourism potential and is rapidly developing into a "minawisata," a fishing-themed tourist destination. A prime example of this transformation is Lepen Shumong, a once trash-filled canal that the village's youth have turned into an exciting fish-filled tourist attraction.
Initially created to pass the time during the pandemic, the community collaborated to clean the canal, introduce fish, and adorn its walls with colorful murals. What started as a humble effort has now turned into a thriving "minawisata." Lepen Shumong offers visitors the chance to take selfies on the edge of its fish-filled ponds and features a local culinary market every Sunday morning. As of now, there is no entrance fee to visit Lepen Shumong, but you can purchase fish food for a modest price and feed the fish.
The youth of Ngrajek Village hope that Lepen Shumong will become a bustling "minawisata" visited by tourists from near and far, setting an example for other villages to follow.
In the same village, you can also visit Sabo Dam Pabelan, a new 100-meter-long dam on the Pabelan River. Originally constructed to manage sediment flow from the Merapi volcano, it serves as an irrigation channel connecting Ngrajek and Menayu Villages. This robust dam is adorned with beautiful gardens and picturesque scenery, making it an ideal spot for future tourism. It will soon feature culinary centers and fishing opportunities, further enhancing the tourism experience in the region.
So, if you're looking for an adventure that embraces nature's beauty, unforgettable experiences, and flavors derived from the river, head to Mungkid and explore the charming villages that make this destination truly unique.
Why Choose Java Private Tour?
When planning your adventure in Mungkid, make sure to consider Java Private Tour as your preferred travel partner. Java Private Tour offers a personalized experience with professional local guides who are fluent in English and renowned for their friendliness and extensive knowledge of the region.
What sets Java Private Tour apart is its flexibility, as they tailor their schedules to your preferences, ensuring your journey is entirely customized. With a range of options, including sedan, van, and tourism buses, they also provide private transportation, complete with certified drivers and guides. Highly recommended by foreign embassies and travelers, Java Private Tour's commitment to service excellence is unrivaled.
Whether you're traveling for leisure, business, research, journalism, YouTube content creation, or any other purpose, Java Private Tour is your trusted partner for a seamless and unforgettable adventure in Mungkid, Magelang, and beyond.
You can simply BOOK HERE to discover the wonders of Mungkid with Java Private Tour, and let the adventure begin!